Group from last Wild Dolphin Retreat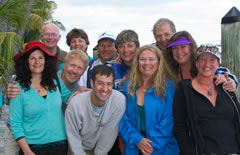 Dating and events compliment each other perfectly. The Conscious Dating Network offers two events sites: www.SpiritualEvents.com and www.ConsciousEvents.com (both sites are exactly the same, so event promoters need only upload their events on one site and they will be displayed on both sites).
After receiving countless emails from event facilitators from all over the world asking, owner, Jill Crosby if she would be interested in doing "this event" or "that event" and promoting it to her members, she decided to create an events site where anyone can upload a spiritual/conscious/green event and CDN will promote it to the members and to the world-wide spiritual community.
It's FREE to upload a "Basic" Listing which includes one photo and one text field. The Premium" and "Featured" Listings which include up to 6 photo fields and 6 text fields range from $5-$15.
Owner/Founder, Jill Crosby sometimes takes singles on Wild Dolphin Swim Retreats and SCUBA retreats on live-aboard boats in the Caribbean. Jill has always had a deep, loving, strong connection with dolphins, whales and the oceans, which she loves to share with the singles that go on her retreats. She also hosts live, singles mixers and gatherings mostly in the US, but soon in Australia and possibly the UK.
More photos
Click on any thumbnail to enlarge picture